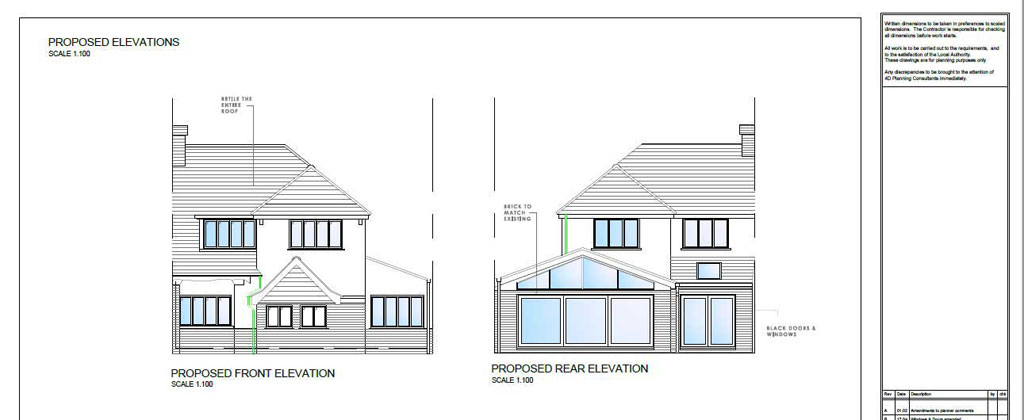 4D Planning is a planning appeals specialist. We help householders and developers who have been unfairly refused planning permission or have been served with an enforcement notice.
4D Planning has a track record with successful planning appeals refused applications around the UK.
How we can help you:
4D Planning's consultants have many years of successfully challenging planning decisions to refuse applications for planning permission. Our Chartered planners will research the refused application and advise whether there are strong grounds for planning appeals and how likely, in our opinion, the appeal will succeed. If we feel there is a small chance, we will be the first to let you know.
Once instructed we will research planning policy, precedent, case law and other material considerations to build a strong argument. We will prepare the appeal statement and appendices (as relevant) and submit the appeal to the Planning Inspectorate and respond to any counter arguments from the Council.
For further information on the process, time to appeal, how 4D Planning can help you and other useful information click here.
Our standard fee for preparing a householder appeal is £850+VAT.
2020 Offer: We offer a thorough, professional and prompt planning appeal service at a competitive price. If you have obtained a cheaper quotation, we will beat it by £50. Please quote 4D50 when contacting us.
Please get in touch to discuss: enquiries@4dplanning.com
Here is a selection of some of our successful appeals:
Property Address: Flat 3, 15 Kingdon Road, London NW6 1PJ
Ref: 2018/3992/P
Proposal: Roof extensions and a roof terrace to the top floor flat.
Property Address: Garages site between 15B and 17/17A Northdown Close, Ruislip HA4 6JZ
Ref: 73080/APP/2018/2707
Proposal: Demolition of existing garages and erection of a 2 storey new-build 3 bedroom house.
Property Address: 7 Willoughby Road, Haringey, London N8 0HR
Ref: HGY/2017/1294
Proposal: Prior approval change of use from B1 (a) use to C3 use (8 flats)
Property Address: Flat 6, 48 Fore Street, Edmonton N18 2SS
Ref: 17/05298/FUL
Proposal: Conversion of existing flat to studio and 1 bedroom flat and erection of rear dormer
Property Address: Flat 2, 1 Agincourt Road, Camden, London NW3 2PB
Ref: 2016/5091/P
Proposal: Erection of a shallow roof dormer above existing two storey rear outrigger.
Property Address: 1046 Stockport Road, Manchester, M19 3WX
Ref:  118050/FO/2017
Proposal: Erection of a single storey detached office building (Use Class B1) within the rear garden of existing residential property with access from Kevin Street.
Property Address: Suttons Auctioneers Ltd, 52 George Street, Wardleworth, Rochdale, OL16 2DA
Ref: 16/01414/FUL
Proposal: Change of use, extension to and subdivision of auctioneers into 8 units Class B2 (general industrial) including internal alterations.
Property Address: 10 Amersham Road, Lewisham, London SE14 6QE 
Ref: DC/17/102637
Proposal: The construction of an additional storey to in the form of a mansard roof extension with two front and two rear dormers in order to facilitate the provision of a self contained studio flat.
Property Address: Second Floor Flat, 6 Eldon Grove, Camden, London NW3 5PS
Ref: 2013/7393/P
Proposal: Erection of a side dormer.
Property Address: 8 Park Road, Enfield, London EN3 6SS
Ref: 17/00776/FUL
Proposal: Conversion of a single dwelling into 1×3 bed and 1×1 bed self contained flats. 
I am about to be refused. Should I withdraw?
We would usually recommend to take the refusal rather than withdraw (although it depends on the project). There are two benefits to this:
It will mean the Planning Authority should be specific about concerns in the refusal reason(s) thus allowing a resubmission to focus solely on that matter.
A refusal also allows the option to appeal if we feel a resubmission is not appropriate.
If you withdraw then you are back to square one and it means the planning officer could introduce new concerns if we resubmit. A resubmission also attracts the potential for more / new objections.
If you would like to discuss our services to assist you with an appeal on your refused application, get in touch by sending us the decision notice and officer's report and we will come back to you with our opinion free of charge, and advice on how to proceed.
Would you like a FREE consultation to discuss your refused application? Get in touch today and we'll offer you no-nonsense FREE advice on the best way forward.
Call: 0161 408 4680 or email: manchester@4dplanning.com
Get in touch with us a for a FREE consultation or to obtain a FREE no obligation quote for our services