Full planning application
We undertake a property site assessment by looking into the history and context of the site and its surroundings. We research the local planning authority to establish what property uses have been proposed, accepted and refused in the past. We also examine the listed buildings register to ascertain whether buildings listed for their heritage value are affected by the planning proposal. We also research whether there are any site constraints such as an Article 4 designation etc. Following the site and locality assessment, a site survey is carried out to gather all the dimensions and required information of the existing site. Usually within 2-3 working days, all the existing architectural drawings are prepared. One of our consultants will discuss your ideas for the proposed scheme either on site or once the existing scaled drawings are produced.
Once this is complete, the proposed architectural CAD drawings are prepared and are forwarded to the client for approval. All the planning documents are prepared taking into account the adopted Local Development Plan (LDF), SPG's and SPD's, National Policies (NPPF), the London Plan and any Permitted Development rights. Once everything is finalised and approved by the client, the application will be submitted to the local council for planning approval. Please note – 4D Planning cannot guarantee that planning permission will be granted but we can guarantee that we will give you the best chances possible to obtain planning permission.
A full planning application includes:
All existing architectural drawings relevant to the project (floor plans, sections, elevations, site plans).
All proposed drawings relevant to the project (floor plans, sections, elevations, site plans).
A detailed Planning Statement/ Design and Access Statement/ Heritage Report (as required)
Aerial/ Photo Survey, Block Plan to scale of 1:500 and an Ordnance Survey Map to scale of 1:1250.
Application forms, Notification letters, CIL Questions.
Once planning permission has been granted, the CAD drawings are configured and adjusted to provide building regulations and detailed/technical drawings for building control approval and tender/ construction.
Our consultants at 4D Planning submit 100% of all applications online using the planning portal. This keeps our overheads low, our fees competitive and is better for the environment. The planning portal is also the quickest way to submit and process an application for planning permission or for a lawful development certificate. 
Lawful Development Application
There are developments which are exempt from planning permission. They would either fall under Permitted Development or they would have established use (4 years for residential and 10 years for commercial). In many cases it is necessary to obtain a lawful development certificate to confirm that planning permission is not required. 4D Planning have years of experience obtaining these certificates on behalf of our clients. The process is similar to submitting a regular householder or full planning permission application.
4D Planning is accredited by Planning Portal UK.
The Planning Portal, which is a partnership between planning agents, Local Planning Authorities and the Planning Portal, have accredited 4D Planning Consultants LTD. as a "Smarter Planning Champion".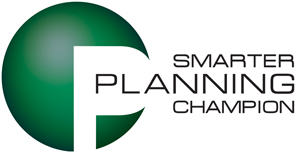 Get in touch with us a for a FREE consultation or to obtain a FREE no obligation quote for our services