What are Building Regulations?
Building Regulations promote high standards for construction and energy efficiency of buildings.
It considers all types of people, including those with disabilities by requiring easy access in and around buildings.
Building regulations are divided into 14 categories (parts), and are updated on a regular basis.
These categories are:
A – Structural safety, B – Fire Safety, C – Resistance to contaminants and moisture, D – Toxic Substances, E – Resistance to sound,
F – Ventilation, G – Sanitation, Hot Water Safety and Water Efficiency, H – Drainage and waste disposal, J – Heat producing appliances, K -Protection from falling, L – Conservation of fuel and power, M – Access to and use of buildings
N – Glazing safety, P – Electrical safety
These regulations have been approved by the Secretary of State for the purpose of providing practical guidance with respect to the requirements of Schedule 1 and Schedule 7 of, the Building Regulations 2010. These documents can be obtained from the planning portal, or by clicking here.
Once the building regulations are approved by the council's Building Control department, the building works can be carried out.
What building works should comply with Building Regulations?
The following types of project amount to 'Building Work' as defined in Regulation 3 of the Building Regulations:
the erection or extension of a building
the installation or extension of a service or fitting which is controlled under the regulations
an alteration project involving work which will temporarily or permanently affect the ongoing compliance of the building, service or fitting with the requirements relating to structure, fire, or access to and use of buildings
the insertion of insulation into a cavity wall
the underpinning of the foundations of a building
If you are planning to carry out such work, then it should comply with the Building Regulations.
The works themselves should meet the relevant technical requirements in the Building Regulations and they should not make other fabric, services and fittings less compliant than they previously were – or dangerous. For example, if you replace external windows or doors the building should comply to at least the same degree as it did before or, where it exceeded the standards, not be reduced below the standards in relation to:
means of escape from fire
air supply for combustion appliances and their flues
Also, in this example, the replacement window / door should also fully satisfy the requirements for energy conservation and ventilation for health
The Building Regulations may also apply to certain changes of use of an existing building. This is because the change of use may result in the building as a whole no longer complying with the requirements which will apply to its new type of use, and so having to be upgraded to meet additional requirements specified in the regulations for which building work may also be required.
Get in touch now for a FREE phone consultation – Call today: 0161 408 4680
What buildings and building works are exempt from Building Regulations?
There are a number of classes of new buildings or extensions of existing buildings that do not need Building Regulations approval – subject to certain criteria on size, construction and position relative to boundaries being met. The following are examples of such buildings and extensions. Please note that they may require planning permission.
garden sheds  – Construction of a small detached building such as a garden shed or summerhouse in the garden will not normally require Building Regulations if the floor area of the building is less than 15m2. If floor area is between 15 & 30m2 you will not normally require Building Regulations providing that the building is either at least 1m from the boundary or it is constructed of substantially non-combustible material.
summer-houses
domestic garages
greenhouses
conservatories  – A conservatory built at ground level and less than 30m2 in floor area is exempt provided that glazing and any fixed electrical installations comply with the applicable requirements of the Building Regulations. Full details of exemptions can be found in Schedule 2 of the Building Regulations. 
Porches – Construction of a porch built at ground level of less than 30m2 in floor area is normally exempt from the need to make an application provided that the glazing and any fixed electrical installation complies with the applicable requirements of the Building Regulations. Work on the roof if you want to carry out repairs or recover a pitched or flat roof of an area that is less than 25% you will not normally need to submit a Building Regulation application.
covered way
covered yards
carports
Door & Windows – If you want to replace broken, fogged double glazing units, rotten sashes or rotten sections of the main frame members, Building Regulations will not apply, providing they are the same size and installed by a 'competent' installer.
Manhole drains – If you wish to repair or replace an existing drainpipe, manhole or associated fitting, approval under the Building Regulations is not normally required if the replacement is like for like.
Example of 4D Planning's Building Regulation Drawings: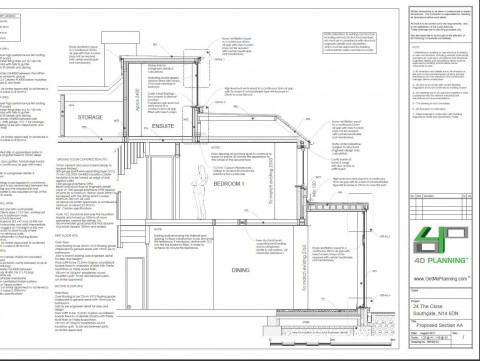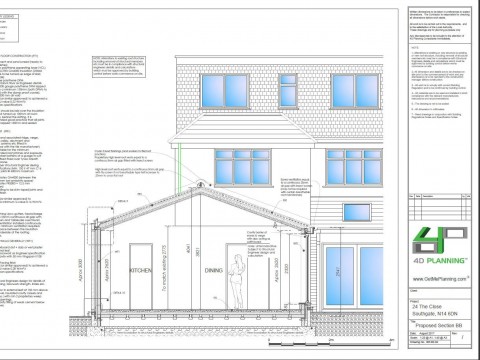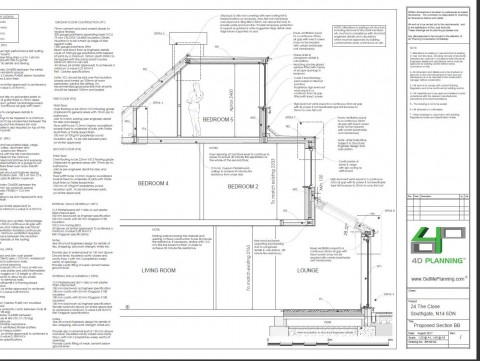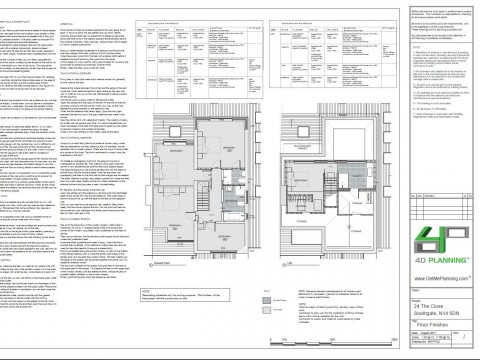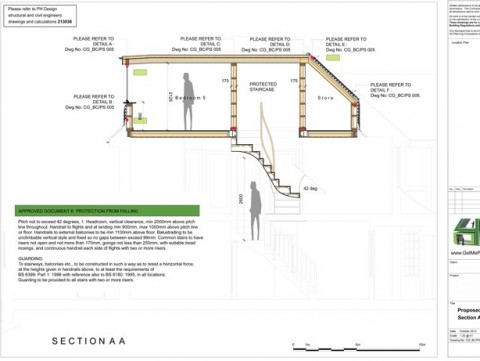 Why does Building Control exist?
Building control exists to ensure that buildings are designed and constructed in accordance with the Building Regulations and associated legislation. 4D Planning Consultants liaise with building control on your behalf to ensure your development coheres to the building regulations such as structural stability, fire resistance, weather resistance, thermal insulation etc.
Building Control also deal with demolitions notices and competent person's schemes, they also provide a 24 hour response service to dangerous structures.
4D Planning are experienced with the building regulations and our designs are created to adhere to all the regulations. The Building Regulations apply to building work in England and Wales and set standards for the design and construction of buildings to ensure the health, safety, welfare and convenience of persons in or about buildings.
Building control teams generally carry out the following duties: plan checking, site inspections, dealing with demolitions and dangerous structures, administration of competent persons schemes and certificated work. 4D Planning have a good working relationship with a private approved Building Inspector in London. We would be happy to recommend their services if requested.
What do Building Control Inspectors do?
Approved Inspectors assess the Building Regulations for most development types including extensions, conversion to flats and other building works. Building Control is not the most glamorous of professions and certainly not particularly new worthy, but it is an important part of the development process to ensure compliance with all regulations. Safety is always a priority and Building Control's role is to ensure that the built environment is safe and secure.
The Building Regulations Application process is as follows:
Architectural Drawings and Structural Calculations are produced by 4D Planning and the Structural Engineer.
The Building Inspector will issue a quote once they have received the drawings, a description of the works and the site address.
Once the quote is approved by the client, the initial notice will be issued by the Building Control Inspector which confirms that they have jurisdiction over the building regulations approval. The Building Control Inspector will serve notice to the local authority 5 days before the works start on site. If the works have already commenced, then you will need to use the Council's Building Control service and not an approved Inspector.
Once the notice has been accepted by the local authority then Building Control will arrange for a site visit and will assess the development. They will usually need a full set of architectural drawings, structural calculations and any possible mechanical and electrical information which they can then approve. They will also liaise with the water authority to make sure that the drains are adequate and the fire service to ensure that all fire regulations are compliant.
The Building Inspector will visit the site during the works at key stages and identify any issues with compliance. They will help find a solution to resolve any non-compliance.
For a typical house extension, they will look at the foundations, floor construction such as damp proof membranes, roof insulation and drains.
On completion of the project, the approved Building Inspector will carry out a final inspection to ensure that everything is OK. They will then issue a certificate of completion of works. This certificate will be sent to the local authority for their records.
Get in touch now for a FREE phone consultation – Call today: 0161 408 4680
Get in touch with us a for a FREE consultation or to obtain a FREE no obligation quote for our services